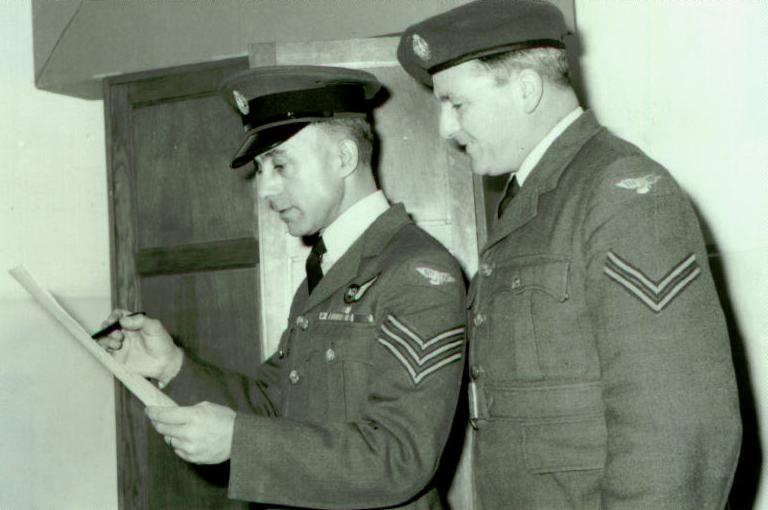 "C" Flights Drill and Discipline Instructors:
These two were called "Tweedle Dum & Tweedle Dee", "Pinky & Perky",
plus a lot of names that cannot be printed here.
They are of course Sgt Tom Sparks and Cpl Sam Worrell.
I do not think anyone could forget these two men. They
gave us hell, as they turned us from boys into Airmen.

Sgt Tom S. Sparks RAF AIR GUNNER
It is amazing what you find out about a person 50+ years after you knew them

We all endured the sometimes harsh tasks and punishments during our training,
but I do not think any of us got to know much about Tom Sparks.

The following information is produced with thanks to Carol and John Edwards the
Site administrators of the 214 Squadron website.
http://www.214squadron.org.uk/BU-B_The_full_story.htm


Tom Sparks was one of several crew from Flying Fortress BU.B to bail out and be taken prisoner of war.
On repatriation in 1945 he continued his RAF career and was promoted to Flt/Sgt.
He was probably reduced from Flt Sgt to Sgt, when he remustered to a ground trade. ( A common practice ).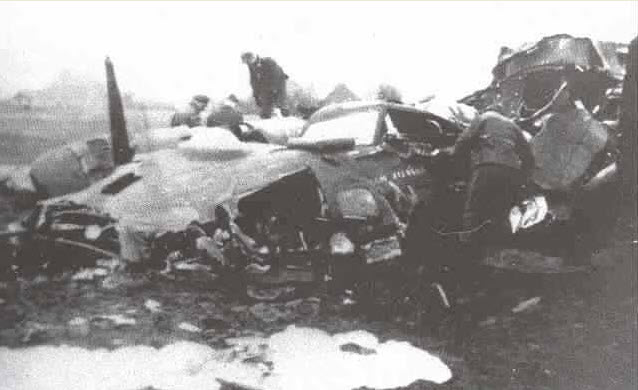 During the early hours of Thursday the 22nd of June 1944, B17 Flying Fortress SR382 (BU.B) of 214 Sqn RAF,
was shot down over Holland by a German nightfighter ( a Messerschmitt 110 ), while returning from
a raid on Germany. Dutch observers at Bergharen reported the aircraft crashing in flames at 1.15am.

Tom and several other crew members bailed out, before their Fortress became the above wreck.

He was later reported as saying that pilot John Cassan and co-pilot Syd Bryant were wrestling with the controls
of the aircraft, attempting to make a forced landing at the time he bailed out. Giving rise to the theory that there
may have been badly wounded on board.

After bailing out Sgt Sparks was given shelter by a Dutch Resistance group, unfortunately it had unknowingly
been infiltrated by the Germans. Put in a van to be transported to a "safe house" Sgt Sparks found on reaching
its destination, that instead of eluding capture, he was surrounded by a dozen or so German soldiers all pointing rifles at him.
After his capture in Antwerp, Tom was imprisoned in Stalag L7.
As the Soviet army was advancing on Poland, the Nazis made the decision to evacuate the PoW camps, to
prevent the liberation of the prisoners by the Russians. These evacuations were known as "The Long March".
There were three main Allied POW evacuation routes to the west, (North. Central and South)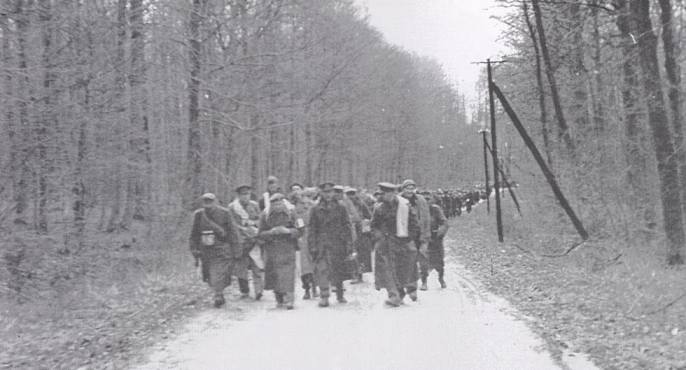 Tom and his comrades took the Central Route, which started from Stalag Luft 7 at Bankau,
near Kreuzburg in Silesia (now Poland), via Stalag 344 at Lamsdorf, to Stalag VIII-A Görlitz,
then ending at Stalag III-A at Luckenwalde, 30 km south of Berlin.
Tom ended his RAF career as Station Warrant Officer, at RAF Warton on the Fylde coast, having
served a total of 27 years. In 1987 he was diagnosed with Pancreatic Cancer and died in May 87 - RIP!